340gsm Mesh
Ideal for building wraps and very large banners
Glorify large building wraps or scaffolding with 340gsm PVC Mesh Material banners. Its manufacturing is done allowing 25% air to pass through creating less stress on the banner itself. The mesh also allows a certain amount of light through so that when used on buildings, windows are not left completely darkened.
Using this material escalates the image for high quality banners and standard finishing. UV based inks are used to prevent color from fading. M1/B1 fire rated to meet the fire safety standards of UK and Europe. Its best suitable for large banner printing and light-weight to put on buildings. Based on orders, custom made banners are manufactured providing the best quality.
Material:
Printed on fine 340gsm PVC Mesh
25% Air-flow through
Offers enhanced image compared to other mesh
M1/B1 Fire Rated to comply with UK and European Fire Safety Standards
Standard finishing included (see below)
Printed with fade-proof UV-based inks
Each banner is printed and finished to your requirements.
Uses for 340gsm Mesh
Scaffolding and very large banners
Medium and large-format advertising
Building wraps (banners that can cover building sides)
Stage Backdrops
Construction sites
Heras fencing banners
340gsm Mesh is perfect for building displays where size is important and weight could be an issue.
For more information on our 340gsm Mesh Banners, please email us or contact us through our phone: 0845 4660132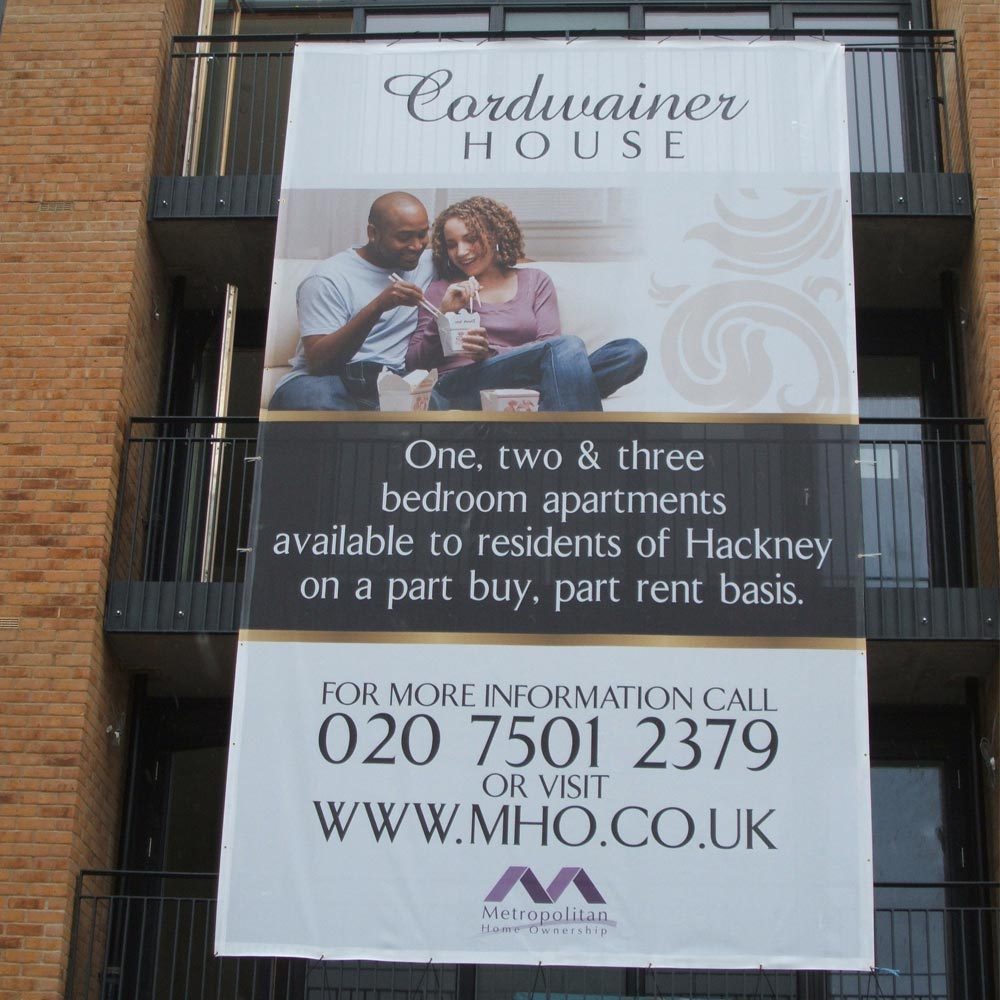 Finishes for 340gsm Mesh
Welded Hems & Eyelets

Items will be given a welded hem, then eyeletted at equal distributions along the hem.

The standard distribution of eyelets is one per metre. If you require a different distribution or specific placement of eyelets, that is no problem at all - simply let us know what you need when you place your order.

Welded Hems Only

Items will be given a 53mm welded hem.

Pole Pocket(s)

A pocket is added to the edges you require to allow a pole to pass through and support/tension the banner.

The diameter of the pocket can be specified by you, however, if you let us know the diameter of the object to go into the pole pocket we can calculate the size of the pocket for you.

Trimmed to Size

Items will be cut to the size ordered.

Trimmed With Eyelets

Same as Trimmed to Size but with the addition of eyelets.